Great Mood!
Ah I am in a great mood this morning!
I had a lovely evening with a young Myrna Loy!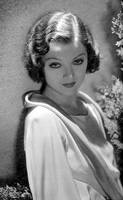 Ah, the year was 1925...she was a mere 20 years old, such a darling.....I do love my ability to travel though time!
For the first time, last night, I visited her without that awful Rudy Valentino coming around! He is such an ass! Three times I have been with Myrna and that persistant Valentino tries to muck things up for me. I never let it get me too hot under the collar, though. After all, he doesn't know it, but peritonitis will be bringing him to his knees by August of '26...so screw him! So much for you, "Son of the Sheik", you sorry bastard.
I do wonder, was it a weak kidney or liver that caused his peritonitis? Either way, that man had
no intestinal fortitude
!! Ah ha ha ha... what a crack!
Nevertheless, my evening with Myrna was extraordinary!
I won't be
kneeding
(*wink) that
nurse-maid
anymore!